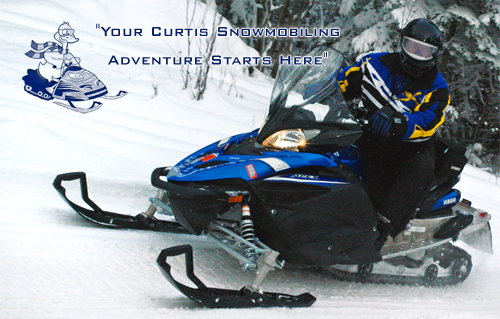 Ride right from your cabin!
Sleepy Eyed Goose Resort has a great variety of Curtis MI snowmobiling lodging and cabin rentals for your winter vacation needs. Our snowmobile cabin rentals allow our guests to ride from the cabin door. We have cabins that can sleep up to 10 people comfortably - perfect for your whole family or a group of friends.
"We are a group of 12 that travel once a year to a different snowmobiling destination. This is our 12th year traveling together and we chose Sleepy Eyed Goose as our destination this year. Les and Kristi were the perfect hosts in ensuring that our stay was great. The cottage was fantastic. Clean, spacious, and in perfect working order. They also took care to make sure we had everything we needed. I cannot thank them enough for all that they did for us." — Greg
Curtis Michigan Snowmobiling Amenities
We have great snowmobiling amenities for our Curtis MI Snowmobiling guests. We make great strides to make sure that your trip is as easy as it gets. Our Upper Peninsula Snowmobiling amenities offer a common area with the following great items:
Garage
A Heated Place to Work on Your Snowmobiles
Flat Screen TV
Stereo
Refrigerator
Local Trail Maps Available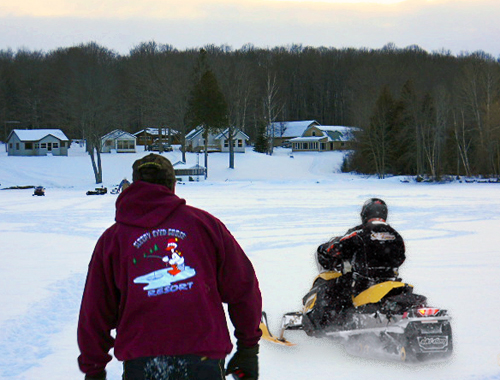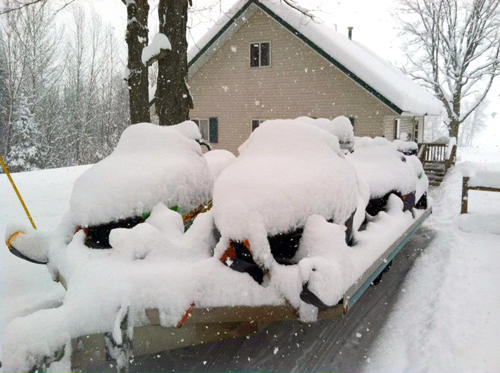 We are your headquarters for outdoor recreation and when seeking a great UP adventure, we are "The perfect place to stay for all the action!".
Besides fishing, there is so much to do here on Big Manistique Lake: swimming, boating, tubing, jet skiing, relaxing along or in the water, sailing, and pontooning with friends around the lake. Make sure to find your great UP adventure here with us!
"After cancelling our plans to snowmobile down state we did a last minute internet search and found the Sleepy Eyed Goose. I can't imagine getting luckier we had an amazing week. Les and Kristi were so accommodating I can't say enough on how welcome they made us feel. Les made sure we could find the trails and left the beacon light on at night so we could find our way back. The cabin was clean and comfortable. They both made us feel like old friends. I would recommend this place for anyone. We will definitely be back. Watch out for the Whippsy. :) — Dave and Tammy

"This year, we moved our yearly snowmobile trip to the UP. We did a lot of online research for places to stay. After meeting Les, the Sleepy Eyed Goose owner at the Novi Snowmobile Show, we decided to give his place a shot. We were glad we did. Our cabin was immaculately clean and well equipped. We were located within minutes of great trails. The best part of the trip was the hospitality shown by Les and Kristi. We had an absolute blast with them and they bent over backwards to make us at home. They treated us like old friends rather than new customers. We would wholeheartedly recommend the Sleepy Eyed Goose to anyone looking into a true up north experience. Not only are the facilities top notch, we could not find a better value. Couple that with the outstanding customer service we received, we couldn't imagine a better place. Thanks for everything!" — Joe T
"First of all I just wanted to tell you, thank you very much for putting up with my 'crew' during our stay at the Sleepy Eyed Goose Resort. Your hospitality is top notch. We all feel that we made new friends with you two and all of your friends that we met during our stay. I have been planning yearly snowmobile trips to the UP for the last five years. We have covered pretty much all of the UP and by far your resort was the most accommodating yet and the price was right. The cabin that we stayed in was very clean and felt like a home away from home. The pole barn was a really big hit with all of us as well. We really enjoyed all of the evenings that we spent with you and your friends in the pole barn. Unfortunately, we had to utilize the pole barn for some unforeseen repairs as well and could have not asked for better accommodations for the repairs either. The trails in the area are top notch as well. Hundreds of miles of well groomed trails! I would recommend your resort to anyone that may be looking for place to stay for a snowmobile trip in the UP. I will be talking to you soon to reserve another block of time for next season." — Mike and Lori Bullis.
We are your headquarters for outdoor recreation and when seeking a great UP adventure, we are "The perfect place to stay for all the action!".