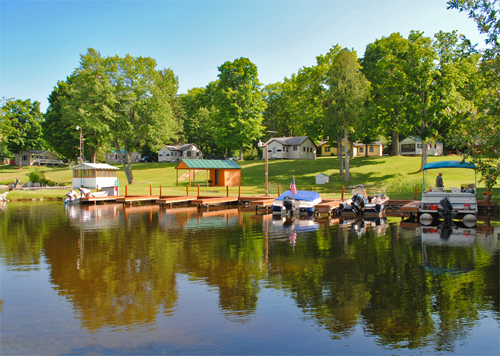 Sleepy Eyed Goose Resort |
Upper Peninsula Cabin Rentals
Curtis, MI Resort - Curtis, MI Cabin Rentals, Big Manistique Lake Fishing, Curtis, MI ATV, Curtis, MI Snowmobiling
Sleepy Eyed Goose Resort is located on the south shores of Big Manistique Lake. We offer Curtis, MI Cabin Rentals, Boat Rentals and Motor Rentals. Our Upper Peninsula Cabin Rentals are centrally located in the U.P. just minutes away from Curtis, Michigan. Along with offering the best in Big Manistique Lake fishing, you'll love the fact that our resort has it's own private marina in which to dock your boat during your stay with us. Contact us to make a reservation, bring your boat, and enjoy the exclusivity of our private marina. If you don't have your own boat, but wish to rent one, we can make arrangements for that as well.

We invite you to check out our Curtis MI Webcam. Check it out anytime of year to see the weather and the great view of Big Manistique Lake. Learn more>>

There are thousands of acres of forest to walk and miles of Lake Michigan and Lake Superior beaches. Well kept golf courses are also located in nearby Munising, Manistique, Newberry, and Naubinway. With a multitude of incredible outdoor recreational opportunities and great Upper Peninsula Attractions, you can't find a better location to plan your adventure. The Sleepy Eyed Goose Resort is located in the Cook's Bay area of Big Manistique Lake, 4 miles from downtown Curtis and is open year round.
Whether you're looking to relax with a large group, or enjoy some solitude with a more rustic feel, we've got the Curtis, MI Cabin Rentals to fit your needs. Our large UP rental home is perfect for larger groups, family reunions, special events, etc. The large rental is outfitted with all the modern amenities, giving you all the conveniences of home while you're away enjoying yourself with friends or family.